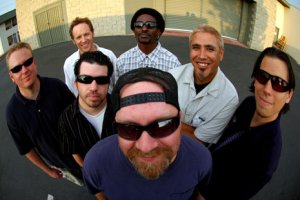 In an interview with Punks in Vegas, Buck-O-Nine vocalist Jon Pebsworth revealed that the band plans to write and record a new album this year:
"We're going to start working on some songs in the next month or so. It's hard sometimes for us because everyone is older and a lot of the guys are married and have kids and stuff and now our bass player lives south of Lake Tahoe in like Yosemite or something, way up there. And I live in LA, and the rest of the guys all still live in San Diego and are super spread out in San Diego County. So for all 7 of us to be in the same room together with our instruments in a proper rehearsal studio, or a proper garage or somewhere to practice, it makes the songwriting process pretty hard. But over this past weekend when we had our little road trip and played a couple shows we had some time to talk about it in the van and we came up with a plan that kind of involved the internet but kind of doesn't. We thought we might try to do it a little unorthodox and I think we came up with a pretty good little strategy. But yeah, we should have something new recorded and done hopefully by the end of the year sometime or the first part of next year."
The band last released Sustain in 2007 via Asian Man Records.