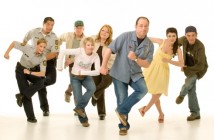 A LA Weekly blogger with a limited understanding of Canadian cultural grants has drawn attention to some controversial artwork in the new album from Living with Lions. The album, Holy Shit, was released earlier this week and was indirectly supported through funding from the Canadian government through a program called FACTOR. The controversy stems from the inclusion of an image of Jesus Christ as "a turd in a toga."
The Canadian heritage minister James Moore also added his own criticisms saying that "the content of this CD is offensive and the fact that it is clearly designed to offend a group of Canadians based on their faith is simply wrong."
Without editorializing, it's worth noting that FACTOR grants do not involve government approval of lyrical or artistic expression. They are based on demos shown to a jury of "producers, broadcasters, managers, label owners/representatives, artists/songwriters, media, and retailers." This always predates proper studio recording and certainly predates album artwork. Moreover, the goal of the program is to encourage homegrown Canadian talent, not act as a filter for non-offensive art. Canada, like the United States, guarantees freedom of speech though a number of exceptions make the right significantly weaker particularly with regards to issues of colour, race, religion, ethnic origin, and sexual orientation.
None of this is super-secret information just for Canadians as it is well documented on the organization's official website. Moreover, FACTOR is administered by a private non-profit organization and not by the government who only provide high level funding and loans to support Canadian artists.
You can check out the original blog at LA Weekly.