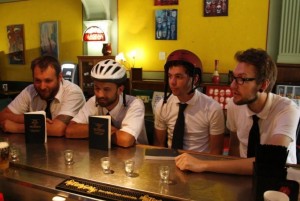 Two-time Super Bowl champion and Denver Broncos great John Elway has apparently been made aware of the existence of Ft. Collins, CO-based outfit Elway, and his legal team has sent the band a document requesting that they change their name, though it's important to note that the band hasn't yet been sued nor served with a cease and desist letter. Elway guitarist/vocalist Tim Browne was kind enough to offer us this exclusive statement:
"At the request of our buddies at Punknews, and in response to the inquiries we've received in the past few days, we would like to say a few things about this situation with John Elway that has arisen.
Last Thursday we got an email from a lawyer who represents Mr. Elway in his various legal and business excursions. The letter basically said that John had become aware of our little punk rock band and, though we make no reference to him in our songs or artwork, he saw fit to dispatch his legal team to demand that we (again) change our band name. It is important to note that this letter is not a cease and desist and does not imply that we are being sued, it reads more like a flexing maneuver mired in legalese. Of course, any Coloradoan worth their salt might point out the absurdity of Mr. Elway's insistence on legally strongarming a virtually unknown punk band rather than focusing his attention on mending the badly broken Denver Broncos, but that's a whole different issue.
We have no intention of changing the name again. We love the name, regardless of what connotations are inferred by the listener. Surely, if the Dead Kennedys could become one of punk's most popular bands without incurring litigation, Elway can keep their moniker and continue making so-so music for our dozens of fans to enjoy."
We'll keep you updated as this story develops. Punknews staff writer (and intellectual property attorney by day) John Gentile was kind enough to offer his take; click Read More to check that out.
Now, some of you might be wondering, "How can John Elway, a person, sue a band, that calls itself Elway?" Well, the answer lies in Trademark law. In the United States, the trademark is roughly a word, logo or package design or a combination of them, used by a manufacturer or merchant to identify goods or services and distinguish them from others. For instance, a name, logo, sound, or possibly even an aroma could be used as a trademark, so long as they identify a product's source; when you see the Pepsi logo, for example, you know that the soda came from Pepsi company, so the Pepsi logo is eligible to be a trademark. When you read the title of an album by GWAR, the name GWAR is eligible to be a trademark because it lets you know what band recorded the album.
There isn't even actually a requirement that a trademark be registered with the government to be enforceable. But when a trademark is registered with the government, it grants benefits in enforcing the trademark and also creates a presumption that a trademark is enforceable. When a party has a valid trademark, it is entitled to stop others from using its mark in numerous situations. The most common situation is when the mark of a subsequent party is confusing with a mark that has previously been in use. In that case, the party to first use the mark can prevent the subsequent party from using that mark. When determining if a mark is confusing, most Federal courts use a variation of an eight factor test called the "Polaroid test". The court will look at the following: 1) the Strength of the mark; 2) the similarity of the two marks; 3) the relatedness of the goods; 4) the marketing channels of the two goods; 5) evidence of actual confusion between the two; 6) intent in adopting the mark; 7) the quality of goods and services; 8) the sophistication of users. After the court considers these elements individually, it will consider them cumulatively and decide whether or not the secondary user of the mark is producing a good or service that is confusing as per the law to the primary user.
Here, famous football player John Elway is suing the band Elway for using the Elway mark. John Elway has registered the mark in a number of forms and logos, and the band Elway has not. (source). Although I have not seen the pleading papers, John Elway is likely suing the band Elway for using a mark that is likely to cause confusion among consumers. (Note: Mr. Elway has not yet in fact sued the band or even sent them a cease and desist letter. The document the band Elway recieved is assumingly little more than a warning doused in legalese. --ed.) Looking at the eight factors, it seems that the band Elway might have a good argument that there is no confusion, mostly because there is likely little evidence of actual confusion, the goods produced by John Elway and the band Elway are entirely different, and the marketing channels of the two parties probably do not overlap. Still, John Elway might have pretty damning evidence with regards to the band Elway's intention for picking the name and may be able to argue that the name "Elway" is a very strong mark.
However, victory in court probably won't be so much of a threat to the band Elway as money will. Trademark litigation not only involves lawyers fees, but almost always involves experts. In a trademark case, hiring an expert often starts out with a $15,000 retainer and can rapidly increase. Often, larger parties that hold a mark will threaten smaller parties with a similar mark in order to protect their own mark. Knowing that smaller parties can not afford to litigate, the larger party will force the smaller party to change its mark and therefore strengthen its own for future litigation, even if it would have lost in court. If the band Elway chooses to fight the famed footballer, they'll likely have quite the battle ahead of them. If not, then they'll likely agree with John Elway that if they change their name, he'll drop his pending suit.
Lately there has been a trend of bands naming themselves after real people: P.S. Eliot; Betty White; Charles Bronson; Dale Earnhardt Jr. Jr; Hank IV; Joy Orbison. If the band Elway loses in court, it could open a floodgate of similar litigation. Therefore, all you up and coming bands, be sure to name yourselves wisely. Maybe a silly pun in your name isn't worth the risk. As for me, as we speak, I'm applying for the trademark "John Gentile (The Band)".
John Gentile is a staff writer for Punknews, regularly ups the punx, and is also an Intellectual Property Attorney by day.