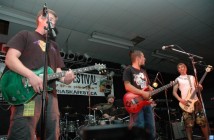 Victoria Ska Festival has confirmed the headliners and lineup for this year's show. Set for July 5th through the 9th, the event will feature Ky-Mani Marley, Gramps Morgan, Ken Boothe, Gaudi, The Planet Smashers and Chris Murray.
Other featured performers include Mama Pulpa, Dub Killer Combo, Honeyboy Carencro, The Klaxon, Kae Sun, The Resignators, Giraffe Aftermath, The Afterbeat, Ivy League Brawlers, DJ Frame, Natural Flavas, Bananafish Dance Orchestra, The Fundamentals, Mobadass, Brave New Waves, Micro Bongo Soundsystem, The Novamatics, Rocky Mountain Rebel Music,
Get tickets and more details here.