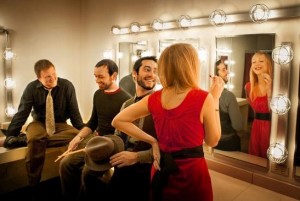 Scott Brackett (ex-Okkervil River) has joined Murder By Death. Brackett had previously toured with the band on occasion and has now officially become part of the full-time line up.
"We feel very lucky that we've had a long career, and that it isn't showing any signs of slowing down," said frontman Adam Turla. "New songs are pouring out and Scott joining the band adds new instruments and creative ideas we've never been able to mess with before."
"I started out as a hired gun for them," says Brackett, "and we really hit it off; it would have been a shame to leave it at that. So when they offered me a spot, I couldn't say no. The opportunity to make a record and keep touring with them promises too much fun. Murder By Death have been working their asses off for years and I really believe in them. They are great storytellers, solid players, and a class act all the way."
The group is touring in support of their fifth full-length album, Good Morning, Magpie, which was released in April 2010 on Vagrant Records.
| Date | City | Venue |
| --- | --- | --- |
| 6/17 | Wichita, KS | LIV FEST |
| 6/18 | Denver, CO | Westword Music Showcase |
| 6/21 | Denali, AK | Denali Park Salmon Bake |
| 6/22 | Talkeetna, AK | Fairview Inn |
| 6/23 | Anchorage, AK | Tap Root |
| 6/24 | Fairbanks, AK | University of Alaska, Fairbanks |
| 6/25 | McCarthy, AK | McCarthy Lodge |
| 7/24 | Chicago, IL | Wicker Park Festival |