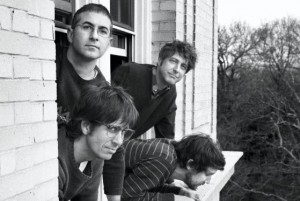 Drummer Scott Gursky has parted ways with Obits. The band issued this statement on their Facebook page:
"Ladies & gents, we are very sad to announce that our youngest & handsomest member has decided to move on from this tawdry Obits cacophony. It's been a fun run & we look forward to seeing Scott on the other side of the drum kit, merch booth & at various camping sites along the eastern seaboard."
No permanent replacement has been announced, but the band has tapped Girls Against Boys drummer Alexis Fleisig to fill in on their upcoming tour dates. Obits released Moody, Standard and Poor earlier this year via Sub Pop.