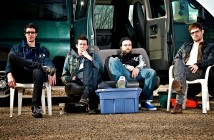 The Riot Before announced today, via their Tumblr Page that drummer Freddy Clarke and bassist Cory Manning have made the decision to leave the band in pursuit of something resembling "a life". The split is amicable, says guitarist/vocalist/songwriter Brett Adams. They explained in a statement:

The decisions were made about a month ago, both independently and amicably. There was a no big fight or incident that led to them choosing to leave, rather the culprit was exhaustion. The truth of being in The Riot Before, and I'm sure this is the same for a whole host of other small touring acts out there, is that you can either be in the band or have a life. It's almost entirely one or the other. The jobs you work when home, the hours you work those jobs, the places you live, the tenuous relationships you hang onto, they all are governed by your involvement in this band. And about a month ago, Freddy and Cory decided it was time to focus on the rest of their lives. It's a decision that I don't at all fault them for making.

Jon and [Brett]] are as committed to the band as ever, and personally I'm excited every day for what the upcoming months and years hold in store for this band.
The band, who are touring this summer with Off With Their Heads and Dead To Me, is looking for a drummer. Bass duty will temporarily be taken over by Dan Zimmerman of Dirty Tactics.