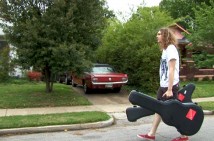 Better Than Something is a full-length documentary that gives the viewer an intimate portrait and glimpse into the late Jay Reatard's world. Jay created a massive discography spread out over approximately 100 7"s, EPs, and full-length albums released on labels like Matador Records, Fat Possum Records and In The Red Records. The film is screening at Silverdocs, June 20-26, 2011 in Silver Spring, MD.
Expanding on the short film Waiting for Something, filmmakers Alexandria Hammond and Ian Markiewicz, returned to Memphis, Tennessee to document his friends, family and colleagues in the immediate aftermath of Jay's abrupt passing. Better Than Something interweaves cinema vérité, interviews, live performances, and early archival footage with moments from an incredibly candid week spent with Jay in his hometown of Memphis.
Filmmakers Alexandria Hammond and Ian Markiewicz will be present at both screenings during Silverdocs and will be taking part in a Q&A at the conclusion of each screening.
Also screening at SilverDoc is DragonSlayer, a documentary which follows skateboarder Josh "Screech" Sandoval as he drifts between mild notoriety on the skate circuit and an ill-defined but adaptive existence in Southern California's recession-wracked suburbs.
Silverdocs is a seven-day international film festival and five-day concurrent conference that promotes documentary film, supports the work of independent filmmakers and fosters an atmosphere for public dialogue and civic engagement around the issues and ideas explored in the film.
You can purchase tickets and learn more about SilverDocs here.