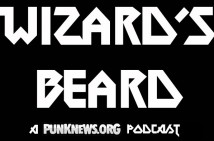 By popular demand The Wizard's Beard, the segment of the Punknews Podcast produced by the Chicago duo of Jesse and Goodrich, has returned and is now its own full length show. Here's how Jesse describes the Beard:

A bi-weekly (or so) breakdown of all the best music related to the hardcore or metal subgenres, including: space rock, fantasy sludge, tough guy death punk, not so tough guy death punk, clown shoe black jazz, and vegan straight edge hardcore. The Wizard's Beard is the sister podcast to the standard Punknews Podcast, meaning we're either so good we needed to split off and expand, or we were so bad, we needed to be separated out where we could ramble as long as we'd like without annoying the average listener.
This week's installment features new tracks from Helms Alee and Big Business. The episode also sees Jesse recapping his Scandinavian metal journey, and Goodrich examining the social breakdown of Converge show audiences (or something like that).
You can click Read More to stream and/or download the big show, or subscribe via RSS (iTunes is coming soon) and follow updates on Twitter.