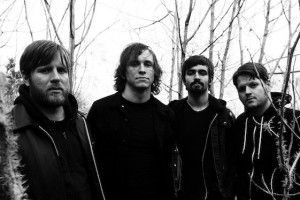 A reader sent in an account of a recent Against Me! show in Rochester, NY that ended rather strangely after it was alledged that the venue, Water Street Music Hall, was overcharging for tickets at the door. Frontman Tom Gabel was alerted via twitter and took the venue to task, demanding that fans in attendance be refunded the difference both prior to and during the band's set. After Gabel called out the venue's practices while onstage, members of the crowd and security guards ended up in a scuffle, which ended with the house lights coming up, guitars and mic stands being hurled intro the crowd and what sounds like an awful lot of chaos.
You can click below for the full account. Any other readers that were at the show are more than welcome to give us their stories in the comments.
Water Street Music Hall was overcharging tickets. GA was $18 I believe and they were charging $20 at the door. Some guy made it apparent to Mr. Gabel via Twitter that this venue was doing so. Needless to say it's not a cool place.
ANYWAY. Dude who's missing his wife's inducement to the hospital for child birth (you can't make this up) tells Tommy that they're overcharging. Tommy freaks and comes out front of the place right before they're supposed to be on stage and starts demanding they refund people their $2 and I guess made some headway in doing so.
Halfway through AM!'s set, Tom says thanks to Lemuria, Screaming Females and a big thank you to everybody for coming tonight. "…but to this piece of shit, scumbag fucking venue overcharging you people for a measly 2 fucking dollars? Fuck you, fuck you, fuck you. FUCK. YOU! If you guys didn't get a refund from this shithole come out to our van after the show and we'll give you your money back." Everybody goes nuts. Security guards get real uneasy.
The show goes on.
Last two songs, Tom's mic wasn't working so he jumped into the crowd, dudes crowdsurfing left and right. It was a madhouse. Security starts getting rough with everybody. Shoving, throwing and pushing people around. 2 dudes crowdsurf towards the stage and almost get thrown on it but get yanked off and pushed towards the back exits. Tom starts throwing guitars, mic stands and dives off the stage screaming "DONT FUCKING TOUCH THEM!!. Sound guys, +1s and all sorts of backstage people are involved at this point as they try to keep the security guards from throwing these dudes out the back.
Shit just got nuts at this point. Venue folk turned the normal lights back on, guys started tearing the stage down and all the while there's a million folk backstage left screaming and arguing.