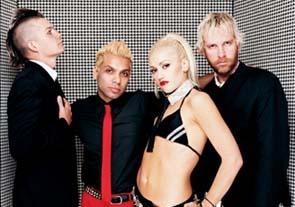 Rolling Stone is reporting that No Doubt is currently recording their first album in ten years. Their sixth album, still untitled, is about two months from completion, currently being created in producer Spike Stent's Santa Monica studio. Here's an excerpt:
Gwen Stefani hates it when people point out that No Doubt haven't released an album in 10 years. "A lot of stuff happened during that time period," she says. "Marriages, babies and, for me, two records and two clothing lines. So if you really worked out the math, you'd be like, 'Wow, you guys are going fast.'"
"It's so exciting to have a record coming out," Stefani says, almost vibrating with glee. "And we all want the same thing: for it to be modern and catchy and addictive. Once you make music that connects with people, it's like you taste blood -- you can't go back."
You can read the article in full here.