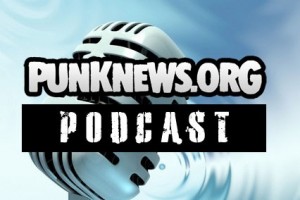 Episode 50! We've recorded 50 of these bastards in a row and we've never missed a week. So what are the crew of the Punknews podcast, including Adam White, Rich Verducci and Chris Moran going to do to celebrate? YELL AT MORRISSEY. That's right folks. This week on the show we discuss Propagandhi's new song clip, the sinking ship that is MySpace, and we take on the mighty Moz. It's the Punknews Podcast vs. Morrissey In The Pretentiousness Contest.
On top of that, we have the music on the show from Set Your Goals and Wayfarer.
You can click Read More to stream and/or download the big show, or subscribe via RSS or iTunes. You can always send us your feedback in the comments section or via e-mail. Past shows are available right here.