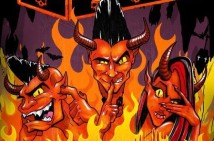 Today, we're happy to premiere the title track from the new album from Copenhagen's own Nekromantix. We've got a stream of the band's song from the album of the same name, What Happens In Hell, Stays In Hell.
You can check it out on their Punknews.org Profile
You can pre-order the album here.