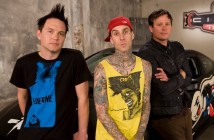 Mark Hoppus of Blink 182 posted an update on progress towards the band's first album in eight years. He said this:

1230 at night here in Los Angeles. [I'm] sitting on the floor of my hotel room, listening to the first mix of the first track to come back from the new album. Stoked beyond words to be listening to new music from our band. on the OTHER side of the creative process. Listening to the songs not to figure out what and if it needs more of. listening just to hear the music. i love this song, and the mixer did a great job, it sounds amazing. I can't wait until this album comes out, and I hope that when it does you all are as excited as I am sitting here by myself in the middle of the night, cross-legged on the floor of a hotel room, with headphones on, listening to this song over and over. Thank you for supporting our band.
The band last released Blink 182 in 2003.