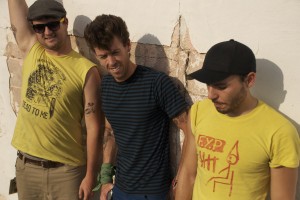 Cobra Skulls will release their new full-length (and first for Fat Wreck Chords) Agitations on September 27, 2011. More details such as its track listing are expected soon; for now, you can check out the cover art over at its release page. The album was recorded at Motor Studios in San Francisco, CA over a three-week period. Frontman Devin Peralta had this to say about the process:
"In the past I've always written songs sporadically and when it seemed as though a song wanted to write itself, but for our new album, Agitations, the process was a little different because time was a bit of a constraint. We finished a short tour in February and then I had less than a month to write an entire album. Solitude was definitely a necessity for me to write, even more so than usual, so I moved into a cheap, dirty, weekly motel in Reno (in a room I was told was used for an upcoming film based on the book "The Motel Life") where I could concentrate, undisturbed. The result is 13 songs, most of which are amalgams of a score of ideas for songs that had amassed in my mind over the past couple years that I somehow managed to store in my ever-increasingly faulty memory. The album is called Agitations, because most of the songs are lyrically concerned with, well, things that agitate and bother me. Things like prisons that are operated like businesses in an ever increasingly xenophobic and paranoid post 9/11 society, U.S."
Cobra Skulls last released the Bringing the War Home EP earlier this year via Fat. Their last full-length was 2009's American Rubicon, released via Red Scare.