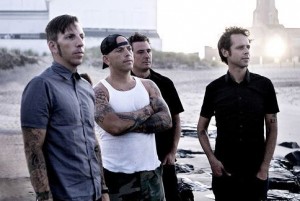 In a new interview with NJ Underground, the Bouncing Souls revealed that they're working on material for a new album which they expect to see release in 2012. Unlike their previous album, Ghosts on the Boardwalk, which was released in pieces over four seven inches, the band is planning a more traditional release.
They said this:

We have a dozen songs that we can easily trim down to six great ones. We're going to write another giant handful of songs and then trim that down until we have what we feel is a great record. We're doing it all ourselves again. A return to complete DIY songwriting. The last couple we did with Ted Hutt. We've work with a couple other producers over the years. Tom felt like we lost touch with something as band by working with producers, so we wanted to write the same way we wrote How I Spent My Summer Vacation and Anchors Aweigh. We don't know what label we are putting it out on for sure. All we are really talking about right now is the songs. We figure we'll talk about releasing it soon, but we're focusing on writing now. We are hoping to get it out around spring time [2012].
The band is in the Philly leg of a series of album shows.