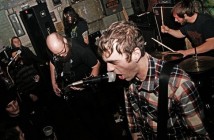 Punk/grind/metal outfit Enabler has announced the addition of drummer Andy Hurley (Fall Out Boy, Racetraitor) and bassist Amanda Daniels. The new recruits come after the departure of the band's rhythm section and lead guitarist.
Hurley released the band's first LP Eden Sank to Grief on his label, Fuck City Records, in 2010. Former Enabler guitarist Ben Willkommen will be rejoining the group temporarily and helping out with shows until the band locks down a permanent replacement. Robby Wright (Paralyzer, Black Dove, One Nation Under, etc.) will be filling in on drums for the band's upcoming Canadian / US tour with Mares of Thrace while Andy tours with The Damned Things.
If you're unfamiliar with the band, check out some music on their MySpace page.