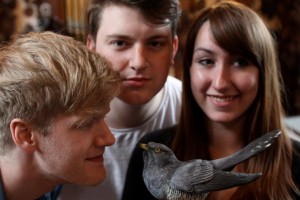 Great Cynics recently hit the road in the UK for a tour with The Living Daylights. While on the road, the band documented some of their adventures and we present the first episode here.
July 18 - 23
After a night of watching the Against Me! DVD and getting high, I wake up on the sofa at Rez's house in Exeter. I have a bad habit of freaking out about long car journeys, especially when they involve being on the motorway surrounded by juggernaut lorries, but Iona and I set off on the four hour drive to Kieran's in Peterborough. We get there alive and Kieran's mum gives us Pimm's and Lemonade whilst we wait for him to get his car and give us a lift to our first show in Leicester.
It's really nice to see The Living Daylights guys again and although we haven't spent much time hanging out before this tour, I'm excited about spending lots of time with them in Denzel and supporting them every night. At the show, we play to a half full pub and there are a handful of people getting into it. In my mind, that's a success. I feel lucky that Bob and Iona have the same attitude. We have a wine party afterwards and fall asleep at John's house whilst listening to The Get Up Kids on my laptop. It's agreed that both On A Wire and Guilt Show are amazing albums, but Something To Write Home About is still the best.
After a morning session of black coffee, watching Loose Women and talking about what kind of people of the world watch Loose Women, we head to Liverpool. When we get to the venue the elusive soundman hands me the contraband that was ordered on the journey up, telling me it's "good shit". Ant from Moon And Back Music does a video interview with us and we chill in Denzel until Egos At The Door start playing. It's a thin turnout but again a couple of people know the words and are getting into it when we play. The Living Daylights kill it and I'm looking forward to watching them every night. We load out and jump in the van back to Owen's place.
Fill-up on cheesy chips, four of us split the costs of a big bottle of vodka and everyone sinks into the sofas and chairs back at the flat feeling happy to be here. Nobody moves for what seems like an eternity and we talk about everything and nothing, none of which I remember. Everyone is glazed over and it hits 5.30am so we sleep where we fall.
I only fully come to my senses when we're on the motorway heading south to Swansea and I'm in one of the two far-back seats of Denzel, AKA Mayo Town. Apparently eating mayonnaise makes you sleepy and the back of the van is the comfiest place to kip. My vibrating phone wakes me up and I get started answering an e-mail interview for AMP Magazine. When I'm finished I run it past Bob and Iona who make fun of me for using the word 'organic', which - I agree - is a bit Rolling Stone. I change that before I send it.
Dividers play second and get me into a good mood for our set. We get free cordial from the bar and shift some t-shirts. At Timmy's house afterwards, everyone starts heading west so Iona and I go with Pillai and Jenks from The Arteries and get backies on their bikes down a huge hill before taking a cliff- path walk with an amazing view of the moon-lit sea back to Pillai's house. There we listen to AC/DC and continue getting wasted until the sun rises, which we celebrate with bacon sandwiches. We wake up to buttered crumpets and an offer of a hot shower, then meet back up with Bob and The Living Daylights on the seafront.
Right now we're in Denzel heading to Truro, Cornwall where we're playing tonight. I'm hoping we get there early and can go to the nearest beach before soundcheck.