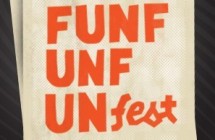 The first batch of confirmed acts for this year's Fun Fun Fun Fest in Texas have been announced. The event takes place November 4th,5th and 6th and previous years featured bands like Bad Religion, Devo, Cap'n Jazz, Snapcase, Strike Anywhere, The Bronx and the Descendents.
The first few bands and performers are Kid Dynamite, Murder City Devils, Okkervil River, X, Brian Posehn, M83, Odd Future (OFWGKTA), Ra Ra Riot and Tune Yards.
Find ticket information here.