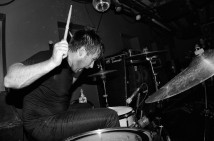 For those of you that have been anxiously awaiting something new from The Copyrights, the wait is almost over. Everyone's favorite pop punk darlings from the middle-of-nowhere Illinois are about to serve up their latest offering, North Sentinel Island via Red Scare Industries on August 9th. They also have two CD release shows planned in Chicago on August 5th & 6th at Underground Lounge. That's right, two back to back shows…probably as an apology to all of us that have waited so patiently for something new from these guys. Vic Ferro from St. Fall Apart had the chance to sit down and chat with Luke McNeill about their upcoming release, punk rock festivals, and coming of age.
Your new full length, North Sentinel Island is scheduled to be released via Red Scare Records on August 9th. Tell us a bit about it, what can we expect? Any significance behind the title?
Yeah, I sorta became fascinated with North Sentinel Island, and uncontacted tribes in general, in the past couple years. North Sentinel Island is in the Indian Ocean, and is home to who most people consider the most isolated people on Earth. As in, the 400 or so people that live there have NEVER been in contact with people from the outside/modern world. They don't even know how to start fires apparently. They just wait for lightning to strike and start a fire, and keep it going for as long as possible. Any attempt that modern people have tried to make contact with them ends with a sky full of arrows coming at them and aggressive hostility from the island people. The title in reference to the album and songs is just to convey feelings of isolation, loneliness, and growing old and obsolete. Those aren't always bad things though, sometimes it's just what you need. It's also a reference to a sense of wildness/youth that is becoming ever-increasingly difficult to get to. As far as how it sounds, it's both our poppiest and weirdest record I would say. It's also my favorite as far as lyrics and overall cohesiveness of the themes in the songs.
You guys formed in Carbondale, IL. back in 2002. For those that don't know, Carbondale, IL is a tiny college town located at the southern tip of Illinois - literally nowhere near Chicago. Its home to Southern Illinois University and that's about it. Carbondale is however home to one of the longest lived punk houses in the history of punk houses, the infamous Lost Cross House. Were you guys inspired by any of the shows at the Lost Cross House growing up? Was it hard growing up as a "punk" in rural America?
Well, I mean we grew up in the golden age of punk rock, meaning that it was more socially acceptable to be a punk in the mid-90's than ever before. So even in a small town, Green Day and The Offspring and even NOFX and Rancid were well-known. It definitely wasn't an "everyday struggle" or anything like that to be identified with that subculture. It probably helped to live near a college town in every sense of the word. I don't know if there is a town in the U.S. that's more dependent and identified by a University than Carbondale. There's really nothing else going on around there. Which is pretty great. You get the more "enlightened" college folk making up a higher percentage of the townspeople than usual. Also, a lot of punks from Chicago influenced, and continue to influence, the Carbondale music scene, since they would go to school down there or whatever. As far as Lost Cross goes, it's still kicking. Pretty amazing that throughout the 25 or so years, they've always managed to make sure that the next renters after the current ones moved out would be punks or at least accepting of house shows and crazy assholes at their house at all hours. Me and Adam Fletcher's first time playing at Lost Cross was opening for Scared of Chaka in 1995. We were beyond stoked. We had to leave early though because it was a school night.
A few years back you guys we're releasing album after album in rapid succession with some EP's and splits sprinkled in here and there. Seems like people got a bit spoiled with pretty regular releases and tours from you guys. After Learn the Hard Way came out in 2008, I think a lot of us were expecting an immediate follow up. Did you guys consciously decide to take your time on North Sentinel Island?
Yeah we did. We always felt like we were rushed in some way or the other with every other release. We wanted to have absolutely zero time constraints on this one, so there would be no regrets. I guess it prolly took a little too long though. We're pretty lazy.
It looks like all the guys in the band have been pretty busy with regular life in addition to other side projects. Rumor has it you are married and practicing law upstate, I think Fletcher got married and bought a house in addition to touring with Dear Landlord, and Brett recently recorded and released some lo-fi gems under the Heat Tape moniker in addition to his duties in Dear Landlord. Who knows where Funberg has been hiding. Is it harder to be as nimble as you guys were a few years ago? Is it hard writing new material with everyone living in different areas of the state?
Yeah, I love in Springfield and am married and shit. Fletcher, Funburg, and maybe even Brett at this point, are practically married. But as far as new material goes, nah, new songs always come no matter where you are. At least for me. It is harder to practice and play one-off "local" shows with friends' bands that come through, which sucks. And with full-time jobs it's always tougher to tour and shit. For me and Jeff though, tour is like our vacation, totally fun and something to look forward to all year. I get the feeling it's kinda the exact opposite for Adam and Brett though, since they tour so much more with Dear Landlord, touring is maybe more like punching the clock and their actual jobs for them. Which is totally understandable. I'm sure they still have fun though. Well, at least Adam.
It looks like you guys are going to do the "festival circuit" again this year. I noticed you guys are playing Riot Fest, The Fest 10, Awesome Fest, and Insubordination Fest. Do you feel like these fests are getting a little too big, too out of hand, long lines, etc.?
ABSOLUTELY. I think everyone in the band shares this opinion. It's definitely fun to play them, and it only makes sense to tour around them, but yeah, there's waaay too many, and the intimacy and homegrown-ness of them seem to fall by the wayside. I like that Insubordination Fest is scaling it back and using a much smaller venue this year. And I'm looking forward to Awesome Fest, we've never done that and it looks like it could be pretty intimate and smaller. But yeah, I can't keep track of all these fuckin fests.
For a genre that has seemingly grown over the past few years, decent pop punk has been kind of hard to come by lately. What are you listening to these days, any new bands we should be aware of?
I don't know if any of us listen to too much new pop-punk, to tell you the truth. I mean, I love bands that most people have already heard of: Iron Chic, Dopamines, Dear Landlord, Banner Pilot, but mostly I listen to fucking Steve Earle and Ryan Adams all day. Pretty lame. There are bands that we play with that I say to myself, "these guys are really good." But then I forget about them because I'm an idiot. I'm sure you could list 25 new pop-punk bands and I would think most of them are good. I guess Be My Doppelganger are really good, but most people have heard of them too prolly. We're doing a week and a half or so up the west coast with them after Awesome Fest. Should be a blast. Oh yeah, The Brokedowns are really great. Just thought of them.
Aside from the fests you're playing and your CD release shows in Chicago, it looks like you're doing a little run of west coast shows in September. Any other tour plans in the works?
Yeah. We're doing the eastern half of the U.S. in late September and October, ending with Riot Fest in Chicago. Then we're doing Europe again in April/May of next year. Can't fucking wait for that.
From the beginning, your releases have been really well produced. Going back and reading some of the reviews, they've all been pretty well received too. Do you typically know what you want the album to sound like when you enter the studio? Is there pressure to keep outdoing yourselves?
Sometimes I have a "goal sound" in mind. I definitely wanted Learn the Hard Way to sound "rawer" than Make Sound, but then I definitely wanted Make Sound to sound polished and bright too. I guess it just depends on the songs/themes of the album. For the new one, we wanted to make the best-sounding record we've ever done, and we definitely did that. Matt Allison produced it, and he can get tones like no other. I like working with Matt, he's definitely a different ear and different perspective to the recording process. Not to mention he's a great guy.
It seems like it was only a short time ago that people were buzzing about these kids from southern Illinois redefining pop punk with fun lyrics, big hooks, and infectious choruses that you couldn't help but sing along with. 5 full lengths, 3 EP's, 4 splits, dozens of North American and European tours later, you're now road tested, seasoned veterans. What inspires you guys to keep going? How does it make you feel knowing that you guys are now considered influences to other up and coming bands?
Yeah I think that's totally awesome and humbling that people think of us as influences, and I really like the direction that melodic punk rock has taken in the last 5 or so years to tell you the truth. There's room for sincerity and honesty AS WELL AS humor and fun in punk rock. As far as what "inspires" us, I just think we work well as a band together. We all get along. We all kinda click when it comes to playing live. And I still write songs all the time. The Copyrights are my main outlet for my songs. We still have fun, and I love hanging out with those 3 guys on tour, which is pretty much the only time I see them. So we'll keep on going until we hate each other I guess. Which will probably be next week.
I don't condone the excessive consumption of alcohol by any means however; I know a band that participated in a pretty gnarly drinking competition to get a club owner to add them to a Copyrights show. How many shots of booze do you think a show with the Copyrights is worth?
Ha! If that was their creative attempt to get wasted for free AND get added to a show they wanted to play, then kudos to them. They got two birds stoned at once. Free shots ALWAYS taste better than bought shots. I would say for us, at our age, maybe 6 shots would do us in? On the last tour, The Dopamines called us Mormons and old dusters because we stopped partying at 5 AM. Either we're getting old, or those guys are just legends. Prolly both.