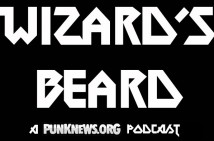 Punknews Podcast spinoff The Wizard's Beard is back this week. The Chicago duo of Jesse and Goodrich are once again bringing you the worst in commentary on hardcore, metal and related subgenres. Here's the skinny this week:

Jesse and Goodrich go on a field trip, discuss dealbreakers for bands you should like but don't, and crust some bros. Featuring music from Former Thieves.
You can click Read More to stream and/or download the big show, or subscribe via RSS or iTunes and follow updates on Twitter.