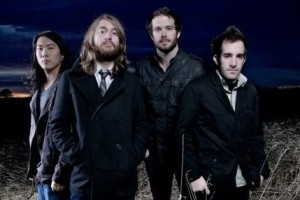 Haste The Day have set a September 13, 2011 release date for their forthcoming farewell CD+DVD titled Haste the Day vs. Haste the Day. The album, which features members both past and present, spans the band's catalogue of six releases and nearly 10 years.
It was recorded live at the all-ages music venue Rhino's in Bloomington, Indiana., on June 29, 2010, also serving as the album release show for Attack of the Wolf King, the band's final studio album. It was engineered and mixed by Brian Thorburn of Threshold Studios. The live album will also be accompanied by a DVD, which was also shot at the June 29 event. The camera shoot was coordinated and produced by long-time manager Mark LaFay and later edited by David Brodsky of My Good Eye.
Check out the artwork on the release page.