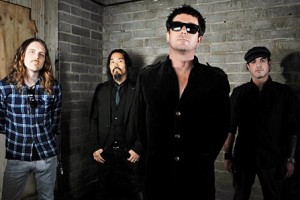 Bassist Pat Kim and guitarist Steve Morris have left Unwritten Law after a physical altercation with frontman Scott Russo. According to statements given to Alternative Press, the incident began with an argument over the band's bus call after a show. Here's an excerpt from Morris's statement:
"The incident broke out when we were arguing over our bus call after a show. Scott was over an hour late and I had to be home to make my son's last tee-ball game the next morning. I wasn't expecting to be hit; that's not the kind of thing I ever thought would happen."
The rest of Morris's statement, as well as accounts from Kim and Russo, can be read here. Both Kim and Morris had long tenures in Unwritten Law, the former joined in 1998 and the latter in 1991. Taking their places in the group will be guitarist Kevin Besignano (ex-Bullets and Octane) and bassist Derik Envy (ex-Red Light Sky). Unwritten Law released Swan earlier this year via Suburban Noize Records.