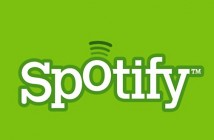 Spotify has posted a response to criticisms it has received over the apparently tiny payouts to musicians and labels. They said this:

Spotify was launched out of a desire to develop a better, more convenient and legal alternative to music piracy. Spotify now monetises an audience the large majority of whom were downloading illegally (and therefore not making any money for the industry) before Spotify was available.

Spotify is now generating serious revenues for rights holders; since our launch just three years ago, we have paid over $100 million to labels and publishers, who, in turn, pass this on to the artists, composers and authors they represent. Indeed, a top Swedish music executive was recently quoted as saying that Spotify is currently the biggest single revenue source for the music industry in Scandinavia.
Of course, the real debate comes from this issue in particular; is Spotify an alternative to illegal downloading or purchasing?