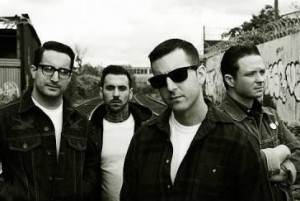 Bayside and Saves The Day have detailed a fall co-headlining tour, with dates spread across the US; I Am The Avalanche and Transit will support. Check out the dates below.
Bayside continue to support their latest effort Killing Time while Saves The Day are gearing up to release Daybreak on September 13, 2011.
Update: Two shows in New York's Irving Plaza have been added at the end of the tour.
| DATE | CITY | VENUE |
| --- | --- | --- |
| 10/6 | Philadelphia, PA | Trocadero |
| 10/7 | Philadelphia, PA | Trocadero |
| 10/8 | Boston, MA | Royale |
| 10/9 | Boston, MA | Royale |
| 10/11 | Cleveland, OH | House Of Blues |
| 10/12 | Detroit, MI | Majestic |
| 10/13 | Chicago, IL | House Of Blues |
| 10/14 | Milwaukee, WI | Rave |
| 10/15 | Sauget, IL | Pop's |
| 10/16 | Lincoln, NE | Bourbon Theatre |
| 10/18 | Denver, CO | Summit Music Hall |
| 10/19 | Salt Lake City, UT | In The Venue |
| 10/21 | Seattle, WA | El Corazon |
| 10/22 | Portland, OR | Hawthorne Theater |
| 10/23 | San Francisco, CA | The Fillmore |
| 10/25 | Pomona, CA | Glass House |
| 10/26 | W Hollywood, CA | House Of Blues |
| 10/27 | San Diego, CA | House Of Blues |
| 10/28 | Las Vegas, NV | House Of Blues |
| 10/29 | Tucson, AZ | The Rock |
| 10/30 | Albuquerque, NM | Sunshine Theater |
| 11/1 | Dallas, TX | Trees |
| 11/2 | Austin, TX | Emo's |
| 11/3 | Houston, TX | Warehouse Studio |
| 11/4 | Pensacola, FL | Vinyl Music Hall |
| 11/5 | Atlanta, GA | Masquerade |
| 11/6 | Orlando, FL | House Of Blues |
| 11/8 | Ft Lauderdale, FL | Revolution |
| 11/9 | St Petersburg, FL | State Theatre |
| 11/10 | Charleston,SC | Music Farm |
| 11/11 | Carrboro, NC | Cat's Cradle |
| 11/12 | Norfolk, VA | Norva |
| 11/13 | Towson, MD | Recher |
| 11/15 | New York, NY | Irving Plaza |
| 11/16 | New York, NY | Irving Plaza |