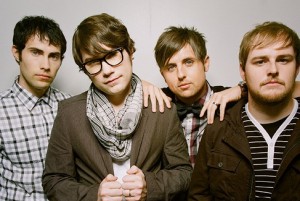 Hawthorne Heights has left Windup Records and will release a new EP entitled Hate on August 23, 2011 via their own label, Cardboard Empire. In an exclusive interview with Alternative Press, the band explained that Hate will be the first of a trilogy of planned EPs:
"I think we just wanted to do something a little more ambitious. And we didn't want to do a full-length album, because our feelings change so rapidly. We realized the industry has changed--there's not a reason to release a full-length album these days. We wanted to have the creative freedom to change up the album or add some creative elements in that might not fit on [a single] album."
Hawthorne Heights last released Skeletons in 2010 via Windup, their lone album for the label.
Edit (2:45 p.m.): MTV has premiered a new track from the EP. You can check out "Four White Walls" here.