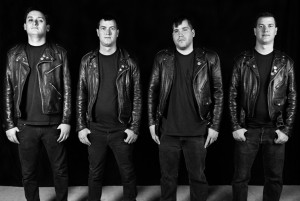 Teenage Bottlerocket has announced plans to tour their homestate of Wyoming for a week in late October. The band explained the move:
"Being from Wyoming is something we've always been proud of. Teenage Bottlerocket has made several friends around the state in the past ten years and we wanted to show our appreciation. Tobias Jeg at Redscare industries suggested that we do a Wyoming tour, and we all thought it was an awesome idea. We are playing some towns on this tour we've never played, and some towns we haven't played for 7 or so years. Last time we played Rock Springs some metal head beat up a trash can in front of the venue. That's the Wyoming we're after. Some bands do tours that ignore Wyoming all together, we are playing 7 shows here. Perhaps other touring bands will take notice and add a show or two in Wyoming on upcoming tours."
Fellow Wyomingites Redbush will open all dates, and The Gamits will also be playing the Laramie show. Check out the details below.
| DATE | CITY | VENUE |
| --- | --- | --- |
| Friday October 21st, 2011 | Rock Springs, WY | American Legion Hall |
| Saturday October 22nd, 2011 | Jackson, WY | Cutty's |
| Sunday October 23rd, 2011 | Sheridan, WY | Elk's Club |
| Monday October 24th, 2011 | Newcastle, WY | The Galaxy Room |
| Tuesday October 25th, 2011 | Casper, WY | The Venue |
| Wednesday October 26th, 2011 | Cheyenne, WY | GI Forum |
| Thursday October 27th, 2011 | Laramie, WY | 3rd St Cowboy |