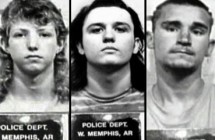 Many of you wrote in with the news that the West Memphis Three have been released from prison after eighteen years. The three--Damien Echols, Jason Baldwin and Jessie Misskelley--were convicted in the May 1993 murder of three boys in West Memphis, AR; during the trial, the prosecution put forth the notion of the killings being part of a Satanic ritual largely based on Misskelly's Wiccan practices and music listening habits. Misskelly had admitted to the killings and implicated both Echols and Baldwin after a twelve-hour interrogation with police, despite evidence to the contrary known at the time by investigators. Over the years evidence continued to point to the innocence of the three, including misconduct by police at the crime scene and in their reports, jury misconduct during the trials, and mounting DNA evidence that pointed the three away from the crime scene.
According to NPR, the release comes on the heels of inconsistent DNA evidence as well as insufficient evidence for a retrial. The three made Alford pleas in court today--a legal maneuver that allows them to acknowledge that prosecutors have enough evidence to convict them while still maintaining their innocence.
Over the years, support for the release of the West Memphis Three has come from all over, including the punk world: two documentaries (Paradise Lost: The Child Murders at Robin Hood Hills and Paradise Lost 2: Revelations) were produced, and in 2002 Henry Rollins organized Rise Above - 24 Black Flag Songs to benefit the WM3.