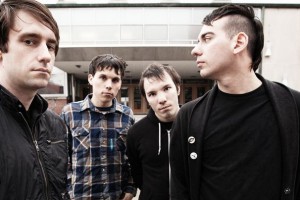 Today we've got another tour dispatch from Pittsburgh, PA's White Wives. The band is on tour in support of their debut full-length Happeners, released earlier this year via Adeline. The band notably features Chris Head and Chris #2 of Anti-Flag, as well as Roger Harvey of Dandelion Snow and Tyler Kweder of American Armada.
White Wives: Episode 2

Hello again and welcome to part 2 of 3 of the White Wives Tour Diary. We're currently on the road with Tigers Jaw, Kite Party and Three Man Cannon for a week, and the second half of tour is flying by. It's been a busy few days complete with lots of stops and traveling so let's get right to it.

If you recall from the last post, we had just finished our show in Detroit at the Magic Stick Lounge where we rocked for a few hundred kids and then proceeded to play a very terrible game of bowling. The game itself wasn't terrible, just us. Regardless, after the show we made the 4-hour trek south to Columbus, OH where we were being set up for the night by our friends, Tony & Carrie. About half way through the drive, Chris Head and myself took over the driver/co-pilot positions and made our way through the quiet Ohio highways jamming plenty of music trying to stay awake.

After a few more stops for candy and caffeine, we finally made it to the house where everyone immediately started drinking and playing video games (rock and roll). The next day would be a busy one and we only had a few hours to get some rest so those of us in zombie mode took to sleeping downstairs in the freezing basement while everyone else carried on through the night.

The next morning, we were scheduled to play an in-store at Magnolia Thunderpussy Records in downtown Columbus. We quickly packed in the van and soon found ourselves near the record store and a few pawn shops. We made it a point to stop into one to check out guitars and amps for sale. Roger found an old Yamaha acoustic that he was able to hash out a bargain for. Then, after a bit more browsing, we made our way over to play our in-store. The staff at Magnolia welcomed us with drinks, fruit and hummus which I've found a new taste for. It wasn't too long before we set up our gear to play a quick acoustic set. We played through some smooth renditions of "Another City", "Spinning Wheels" and even "Runaway Slave" which, if I'm not mistaken, was the first time we've played that all together. Overall, the set went well and afterwards, we packed up the gear with lots of time to spare before the show at Monster House.

With our time, we went next door to a restaurant called, Skully's. Nine of us packed in around a table and made orders as masses of wild and weird characters started filling the streets of downtown Columbus. It certainly made for an interesting wait, however, we also soon learned that the kitchen was super understaffed and they only had a new guy working back there. So while we waited over the span of 2.5 hours to get each of our plates, the weirdos made their way in and out of the restaurant and over to our table. Finally, after an eternity and complimentary drinks from the server, we got out of there and made our way over to our friend, John's, place to have a quick pool party.

We were greeted by his family and 2 gigantic dogs, and as most of the guys took to playing a game of beer pong in the pool, I sat around dominating a game of Oregon Trail and Chris Head sat around doing Chris Head things. We weren't able to stay very long as showtime was drawing near, so we all packed in the van once more to make the drive over to Monster House. For those that haven't been, the name portrays the venue perfectly. It's an awesome house and we were provided with vegan macaroni, watermelon and homemade pastries upon our arrival. The show itself was held downstairs in the basement which had a great set-up while the sky outside started to get a little stormy. I spent most of the night inside with the merch chatting up a storm with Ms. Brianna Collins of Tigers Jaw. We also sat and watched as everyone coming from the basement during the show came out dripping from head to toe. Prepping for the heat exhausting show that would soon commence, I went outside for some air, water and energy drinks. After some great sets by Three Man Cannon and Kite Party, we were up. One by one we made our way through the huddled masses below and squeezed together in the tiny stage space provided.

We flew through our set as the Monster House patrons gathered together and danced wildly and sang loudly, all the while losing every drop of water from their bodies. There's always something special about being in a tiny room full of people that have no barrier in between you and them. We exited the basement soon after just like everyone else, completely drenched. Meanwhile, the lightning storm outside had drifted away and the rest of my night was again spent at the merch table talking with the owner of Monster House. One more Tigers Jaw set later, we made our way through the house and packed all of our gear before setting out on a most lengthy journey.

It appears that we here at White Wives have been cursed to lose our wallets. It hit 2 before tour even kicked off and soon made its way to Chris Head literally right before takeoff. So we made arrangements to have his wallet sent to Chris Stowe's house in Cleveland and would be picking it up on the way to Erie, PA. On the way to Cleveland, Head and I assumed the driver positions again and spent the time talking about his history in Anti-Flag. Listening and talking about old tour stories seemed to make the time go by a little quicker but it still felt like an eternity before we made it to Cleveland. The stop was short and quick and before takeoff, we swapped out with 2 and Stowe before making the rest of the journey to Erie. We were set up that night at Roger's dad's house. It was a super accommodating home complete with plenty of beds, a jam space and an epic man cave in the basement. As we settled into our rooms, I also found that mine had a connecting bathroom complete with a Jacuzzi tub… you can imagine where I spent the following 2 hours before climbing into bed. Sleep didn't last long, though.

Before I could even start dreaming, 2 was waking me up to take off to Buffalo, NY for another in-store performance at Record Theatre. We were already a little behind schedule, so upon arriving to the record store, we had to load out quickly. Unfortunately, we also had to get to the venue for the night right after, so we unpacked, flew through a quick set to some great patrons and staff, then packed back up and left before anyone could blink. Throughout the week, apparently, the show had been moved from Mohawk Place over to a place called Broadway Joe's. I wasn't aware of anything until we arrived. Regardless, we packed out into the dark venue and made a quick stop next door to Famous Donuts for a quick treat before the show.

Once we were all settled in, Brianna and I began our merch setups around the pool table inside. Afterwards, I soon realized that all of my band mates had suddenly vanished, likely to go eat dinner. So I was invited by Tigers Jaw to go eat at a nearby diner. We stretched our group across a few tables and talked about each other's band histories and I managed to score a quick interview with Adam, Ben and Brianna on behalf of the "Old Man and Bitter Girl Podcast" that I contribute to back home in Texas. It was then that I was also informed that the power for the venue we were playing soon had been out all day. The staff had been waiting on the local power company to bring them back up for a few hours already and we found out that within the next hour, the show would be cancelled.

After our meals, we made our way back to check out the scene only to find that nothing had changed. So we mingled with some of the kids outside and discussed other options in case the show was indeed cancelled. Unfortunately, no remedy was found and as the venue began giving out refunds, Brianna and I stayed behind to sell a bit of merch to some kids wishing to contribute. One of the show alternatives was to play acoustically on the sidewalk with amps powered through the van's battery. So while we set up to play a little something for the kids that had all stayed behind, 2 and Ben from Tigers Jaw started making calls in an attempt to find another venue. Eventually, we started to play while an audience gathered around and took pictures and recorded the event. Meanwhile, after only playing one song, Ben had successfully convinced a friend of ours to help us out with a new venue to play. After informing all the kids and quickly packing up our gear/merch, we hustled over to Club Diablo across town.

The venue was small with wild demon decorations all along the ceiling but very accommodating for all the bands and all of the kids that followed. We decided on sharing lots of equipment to make transitions quicker since it was getting late while we set up merch around another pool table. The day had been an exhausting one and so before we played, I treated myself to some drinks at the bar and Roger offered up shots of Jameson to myself and Stowe. The rest of the show went well and after being carried around the stage by 2 while attempting to play trumpet, we closed out our set with what energy we had left. Overall, even with multiple stops, performances and venues, the evening turned out quite well and before long we were back off to Erie to stay one more night. Unfortunately, your's truly was hit with the curse after a trip to a nearby Denny's. As I went to pay for my meal, I noticed and realized that I had left my debit card back at Club Diablo. After a few failed calls to the venue, I concluded that my card belonged to ol' Lucifer now and had to cancel it since we would be traveling to Wilkes Barre the next day with no extra time to go back. It was certainly an exhausting day and so upon arriving back in Erie, we crashed out instantly, ending our most drama-filled 2 day entry.

Which finally brings us to the present. This very moment I'm sitting in the back corner of the Redwood Art Space in Wilkes Barre, PA watching Three Man Cannon tear it up. Tonight is our last night with them as well as Kite Party and Tigers Jaw. It's a bummer for sure but I've been informed that we'll be seeing each other again in a few months when I make my first ever journey to the legendary FEST in Gainesville. So, I'll wrap this up with a special thanks to our tour mates for making this another fantastic week in the lives of White Wives. Thanks for reading! Last entry coming soon!

Cheers! Josh & White Wives.