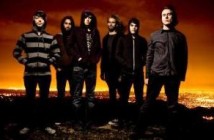 Vocalist Travis Richter - who joined the band in 2010 - has announced his departure from The Human Abstract. He said this:

A couple months ago I told the guys I wasn't going to tour anymore for a couple reasons. One, I'm turning 30 and have given all my time to bands and the road, and I want to be able to start a family and see my parents and grandparents more. Secondly, I graduated with an audio production degree, and I feel myself being pulled into that world as more of a full time position. I think The Human Abstract is an amazingly gifted group of musicians with mind bending potential and I couldn't thank them enough for everything they've done for me since I joined the band in 2010.
Richter, who was formerly of From First to Last and The Color of Violence, replaced founding vocalist A.J. Minette who left in Fall of 2009.