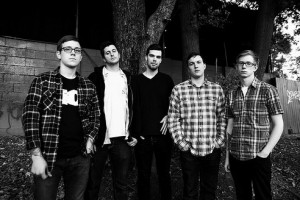 Since forming in 2007, Doylestown, PA product Balance and Composure have rapidly established themselves as one of the most promising new voices in post-millenial punk. The No Sleep records quintet made a bold step toward delivering on that promise with the release of their full-length debut, Separation earlier this year, blending a bevy of seemingly disparate influences from Neutral Milk Hotel to Nirvana with a production assist from venerated veteran Brian McTernan.
Punknews staff interviewer G'Ra Asim caught up with singer/guitarist Jonathan Simmons to get the dish on their upcoming fall tour with Polar Bear Club, the anxiety that drove Separation and the best places to chow down in Baltimore, MD.
How did you guys end up working with Brian McTernan? Are you fans of any particular records he did in the past?


We kind of just emailed him on a whim and expected nothing to happen but he was super interested and wanted to work with us surprisingly enough. We were huge fans of all the Hot Water Music and Movielife records he had done so we were more than excited to work with him.
 

You've said that while making your previous EPs, you guys were mainly still trying to find your sound. What elements does the new album showcase that you feel weren't quite developed yet on earlier releases? How has Erik's addition to the band changed things?


 I guess we just got better at writing songs over time and ever since Erik joined we knew where we were headed musically. Separation is where we're at right now as musicians and it's what we wanted to sound like.

 
What advantages/disadvantages are inherent in embracing a three-guitar lineup in a musical context that traditionally uses a maximum of two?

There aren't any disadvantages really because you can always just add more to the songs and it makes it louder at shows. I have wondered what it would be like with 2 guitarists but it would be really weird to just sing and do nothing else.
 

What was it about the song "Quake" that inspired you guys to select it as the first song we got to hear from Separation?
We just felt that it showed all sides of the record in one song and thought people would like it. It's a little catchier than what we have written before so we thought it might be a little bit of surprise to the listener.


 Balance and Composure are often classified as being aesthetically similar to several bands on the respective No Sleep and Run For Cover records rosters-- bands like The Wonder Years, Title Fight, Tigers Jaw and Transit. Other than your being friends with these acts, what do you have in common with these acts? How does it feel to be earning acclaim at the same time as so many of your friends' bands?
 

I don't think we have anything in common with those bands in the way we sound but we all grew up in the same "scene" and that plays a huge role in why we're friends with them. The fact that we tour with all of our friends is awesome and we love it so much. It is pretty cool seeing all your friends bands progress and kind of explode in front of your eyes. We're all in this together and it is really satisfying seeing all of their hard work pay off.

What experiences in the band's collective history were most instrumental in the development of the new album? Did any particular tourmates or stories from the road meaningfully influence the newest material?

 A lot of the record is more about questioning why we're here and why we are doing what we are doing so I wouldn't say tourmates or stories influenced the record. It's a record about being confused about being alive and questioning what we have been told to think and feel. It's kind of like a "trying to find my purpose" record.
 

So you guys are playing with Polar Bear Club and Fireworks on the Clash Battle Guilt Pride tour. What can fans expect on those dates in terms of set list?
 

Yes we are and we're way too excited for it. Fans can expect a lot of songs from Separation on this tour as well as some old ones.
 

You've listed Neutral Milk Hotel, Nirvana, Jawbreaker and Sunny Day Real Estate as bands that you all listen to and garner influence from. Did those commonalities in taste emerge once you'd all gelled and had been writing together for a bit, or did the band coalesce because of a shared admiration for such acts?
 

The band started with admiration for those bands. We all loved those bands before we started.

 
Of your releases, I Just Want to Be Pure has been identified as one scorned by the band. What's not to like?
 

Well, we wrote it with our old guitarist so we naturally don't feel any connection toward it. It turned out too poppy and soft for our liking. At the time we loved it because it was different to us and we wanted to make more dynamic music than what we were making in previous bands but it sounded way too cheesy after awhile. We're just sick of the songs. What's the sense in playing songs you feel nothing toward?


What was your favorite place to grub in Baltimore while recording with McTernan?

 Johnny Rad's (great pizza), Isabella's (best sandwiches), and Bagby's (pizza, pasta and sandwiches) .