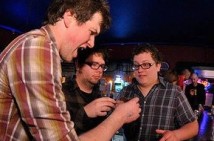 Cincinnati, OH's The Dopamines, announced on their Facebook that they are currently working on new material. The band had this to say:
"Hey guess what nerds? We have a bunch of new songs that are mixed, and they are awesome. Pretty soon you'll all be illegally downloading them off of mediafire. How exciting is that?!"
The Dopamines will also be performing at the Southgate House in Kentucky on New Year's Eve for their five-year anniversary. The band released Expect the Worst in 2010 and also recently released a split with Dear Landlord on Paper and Plastick.