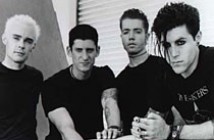 UPDATE: Alternative Press is reporting that the story is the result of a hacked account on the band's message board and that they have not in fact broken up.
Original Text:
After twenty years eight full-lengths and several EPs, AFI has called it a day. Vocalist Davey Havok announced the breakup via the band's official message board:
"After more than 15 years of being together, we as a band have decided to disband A.F.I. Me and Jade will still continue the Blaqk Audio project but there will be no more A.F.I albums or shows. We have matured and have other things in life that we would like to attend to. Please forgive us for the random statement but it was something we were thinking of for a while. We will post a more detailed statement soon, keep your eyes peeled!"
AFI rose out of the punk and hardcore scenes of California's east bay, releasing their early material via Nitro Records before migrating to Universal beginning with 2003's Sing The Sorrow. They last released Crash Love in 2009. We'll keep you updated when the more detailed statement is released.