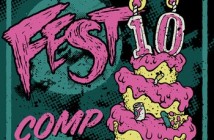 The Fest 10 have released a new compilation in anticipation of this year's Festivites. The compilation features notable acts performing at this year's Fest such as Algernon Cadwallader, Look Mexico, Ninja Gun, Defiance, Ohio, Lemuria, Restorations, Small Brown Bike, and many more.
The Fest 10 takes place in Gainesville, FL October 28-30. 300 more weekend passes will be made available on September 15 at noon EST; half will be sold online, the other half locally in Gainesville. More info on that is here.
You can download the compilation here and volume one can be found here.