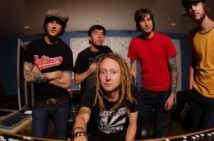 Strike Anywhere frontman Thomas Barnett and Rob Huddleston(Ann Beretta, Foundation) have announced a special performance this week to benefit the Richmond branch of Industrial Workers of the World.
Along with opener Billy the Kid and the Southside Boys, Huddleston will be performing a solo acoustic set, and Strike Anywhere will perform a special acoustic set. Barnett And Huddleston will then perform an acoustic set of songs from their seminal hardcore project Inquisition, who last performed back in 2007.
The benefit show will take place this Thursday, September 15, in Richmond,VA at the Camel Club, with tickets priced at a recession-friendly $6.