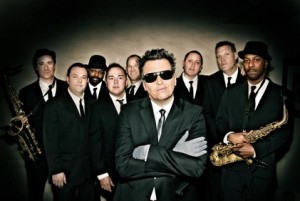 As expected, The Mighty Mighty Bosstones will soon be releasing a new studio album. The record is titled The Magic of Youth and is due out December 6, 2011. It is the follow-up to Pin Points and Gin Joints which was released in 2009. Frontman Dicky Barrett talked about the album:

If the question is why at this point in time, in 2011, do we need a Mighty Mighty Bosstones record, then the same question should be asked: Why do we need good music? We make really good records, and this one that we are currently making is no exception-it's damn good. On top of that making damn good music with each other is something we love doing.
The album was produced by Ted Hutt (the Gaslight Anthem, Dropkick Murphys) and will be out in time for the band's annual Hometown Throwdown which will take place Dec 28-30 at the House of Blues in Boston.