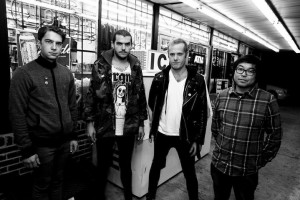 San Francisco's Dead To Me jumped the bullet train to success back in 2006 signing to Fat Wreck Chords for the release of their debut album Cuban Ballerina . Fast-forward five years and the band has three more releases under their belt with just as many lineups. But as Dead to Me joined Off With Their Heads and Riverboat Gamblers for a nationwide tour, lead singer Tyson "Chicken" Annicharico sat down with Punknews writer Tyler Barrett to preview their new album, discuss their relationship with Fat Wreck Chords, and explain why Bay Area punk rock is dead to him.
The last time you played in Minneapolis was right after Cuban Ballerina came out - can you catch people up to speed after all the changes what they can expect from a Dead to Me set now as opposed to back then?
It's nice at this point to have the three releases out. We've got the two full-lengths and the EP, Little Brother and then we just recorded a brand new record, so at this point it's really nice to choose between four different batches of songs as opposed to just having one record to pull from. It's really cool for us to have a bigger pool of songs. It's a lot more varied. You can play some of the reggae-sounding stuff, straightforward punk stuff, and shit in between.
Speaking of the reggae stuff you have--that came in during Little Brother and left after African Elephants , both of which are the only recordings [former guitarist] Nathan [Grice] played on. Was that something he brought to the table, or can we expect more reggae/ska in Dead to Me's future?
I would imagine there's more reggae in Dead to Me's future, for sure. All the classic punk bands I love—well, not all of them—but a lot of the classic punk bands I love weaved that into their repertoire. I'm a huge, huge Clash fan, huge Stiff Little Fingers fan, huge Operation Ivy fan…even some of that Crimpshrine stuff had weird ska-punkish vibes to it. "Little Brother"—that song me and [former guitarist] Jack [Dalrymple] wrote together. On "X" from African Elephants, I wrote that song. But Nathan definitely helped, like on "California Sun" Nathan's got this really awesome bassline on there and he's got a really good facility when it comes to reggae and rhythm so he always helps me, approach-wise. He's a huge reggae fan, he knows way more about reggae than I do. But it's really cool to play that stuff because it keeps it mixed for us, we're not just playing the same stuff, which I kind of like about our band, we have a varied sound. It's not like if you have one of our songs on a record, all the songs sound like that. I'm really proud of that.
I've always thought you had really cool basslines—being a songwriter, do you write songs on bass or do you write them on guitar then come up with the basslines later?
I write on guitar. There's been a couple instances where the bassline came first. "X" was one of those, for sure. "Day Without a War" I wrote the bassline first and then went back over and did the guitars on top of it. But 90 percent of the time I write the guitars first. On "Little Brother," that was one where I wrote that song on guitar and then I brought it to Jack at practice and Jack wrote that awesome bassline to that song. It's my favorite bassline to play and it's the one that Jack wrote. I just love that bassline, it's so much fun to play.
You mentioned you were recording a full-length—is that the one you were recording in Chicago? What can you say about that? Are you done recording?
Yeah, we're done making it, yeah. Right now we're in the process of getting mixes back from the producer, Matt Allison. We've heard eight of the twelve songs and everything sounded fucking awesome so far, we're really excited about it. I think it's a lot more cohesive than the last record. I love the last record—that it's super varied—but I think this record is more cohesive and sounds like a batch of songs that were written at the same time, and a little bit more focused, I think. I love Sam [Johnson] - our new guitar player - Sam's songs on the record, I think they're really fucking awesome. I'm really excited about the record. So stoked. Like I said, we'll be playing some new shit tonight.
Is that gonna be out on Fat Wreck? Is there a particular reason why your recent 7-inch Wait for It… Wait for It… wasn't on Fat?
It will be out on Fat Wreck. The main thing was—well, a couple things. One was we kinda had some ideas about doing a big art thing with it. The Wait, Wait 7-inch comes with like a 20-page book with photos and stencil art from my cousin, the drummer, Ian. And we wanted that to do that and we wanted to be on a different label just to mix things up a little bit. And Fat doesn't do a lot of 7-inches, let alone like, art-book 7-inches and stuff, so we were like, "Why don't we approach a local label and Brick Gun Records is run by our friend Brady and John so we were really stoked to do that and support a local label and have them be really geeked on the artwork idea and make it kinda special because we're record nerds ourselves, we just wanted a different release to have kind of a record-collector nerd vibe to it.
You worked at Fat Wreck Chords. What was it like to be under Fat Mike's employ?
Dream job, man. Straight up. He and his wife Erin are far and away the best bosses I've ever had. I mean, I haven't had a lot of bosses, I worked there six-and-a-half years from the time I was 20 to about 27. Before that I had some like, coffee shop jobs and bullshit jobs but since then I've been touring so much I just take odd jobs when I can. But the most part I've been on the road since I stopped working for Fat. Fat Mike's the raddest boss in the world. It's fucking crazy. We got paid really well, we got paid vacation and full benefits and he would take us to Tahoe once a year, Vegas for Punk Rock Bowling, we would go to shows—he would take us all out to dinner and then we would go to shows together. And, you know, there might have been drugs involved sometimes, paid for by certain people. I don't condone that behavior, but, you know…might have been involved [laughs]. He's a really, really, really awesome boss, man. If there was anything you needed you could just go talk to him and his wife, Erin. And Erin is a total sweetheart and would always make sure you had everything you needed. Just a really, really cool place to work.
How'd you get hooked up with a job like that?
It was kind of a long story. Basically, I used to do merch and roadie for this band called Enemy You. Then the bass player at Enemy You got hired to be the label manager at Fat Wreck Chords and I got demoted from merch guy to bass player. And then when I was in Enemy You, since Mark, the bass player had gone to be the label manager of Fat Wreck Chords—Mark Tamo, he was like, "Yo, we need some interns at Fat, would you be interested?" And I was like, "Yeah, of course dude, for sure." So I went and did that, interned for awhile and then that led to employment. So it worked out.
Did you ever get in on any juicy punk rock gossip or insider information about bands getting back together or anything cool like that that didn't get out to the public until much later?
Yeah—I mean, I'm not gonna go into detail but yeah, we would hear stuff! It was a label, you know? We would hear from people, and other labels and other bands and our bands, but…the main thing about Fat Wreck Chords—and that's why I love it and why we're still on it—is it's a family. It's definitely a family-run business and I feel so good knowing that our records are in the hands of like, my family and friends over there at Fat. It was never like mean or salacious gossip or anything, it was just common workplace, you know? It was more like we were more involved in each other's personal lives, we were more trying to get the juicy gossip on people's dates over the weekend. When you work with Floyd…that guy is an international playboy and a lover of many women. So it's always fun to get his stories and try to get him to tell us the juicy details of his sexual escapades around the globe. [pause] He's gonna kill me for that [laughs].
Do you think the cost of living has hurt the punk scene in San Francisco? There's such a rich history there, but Dead to Me is one of the only really good bands that comes to mind in the last 5-6 years. Do you still see punk bands come up in the city, like, is there still that outlet for poor kids to even be able to do that kinda stuff?
Fuck no. I think that at the end of the day, even playing in a punk band is a privilege of sorts. There's a lot of kids I'm sure that would be in the most amazing bands ever but it's a little bit of a luxury to have some time to go meet up with your buddies and buy gear and buy equipment and have a place to go play and practice and rehearse and all that crap and then go play shows and buy vehicles, you know? It is a terrible financial decision to start a band of any type, especially a punk band. I think this cost of living does affect the scene a lot, man. One thing that we always joked about was I would always hear about these awesome bands in San Francisco…about two or three months after they broke up. And it would be like, little dudes that started this band called Sharp Knife and this band called the Abi Yoyos. These bands started as like high school dudes, were together for like a summer, maybe two summers, and then they all went off to college and they bail and there's no more band anymore because who can afford to stay around and live and in San Francisco? You can't tour, you know? I can't find a job and live in San Francisco. I stay on my sister's couch. I can't afford to live there. It's fucked. But it's also, like, my favorite city, so…[laughs].
Does Sam live in Florida? How do you guys do that having singers on opposite sides of the country?
Um…well, Fat Mike has a personal jet. And he lets us use that for band practice and stuff. We fly Sam out for practice and stuff and he flies back and forth for beginnings and ends of tours.
Wow. Not bad.
Yeah…it's good to be Fat Mike [laughs]. Nah, we just make it happen…I would say at this point [Sam] lives in this van more than anywhere else. I know for a fact he's spent more time in this very van that we're sitting in right now than he has at home in the last year. For sure.
You said you played bass briefly in Enemy You…does that mean you've been in three bands now with Ken [Yamazaki]…
Yeah. Enemy You…just joined Dead to Me and then Western Addiction.
What can you say about the status of Western Addiction and Bad Friends?
Western Addiction? You know what, man? The singer Jason Hall, he has two little girls and it's hard for us to convince him to get in a van for a couple weeks and lose a bunch of money when he's got a career job and two little girls and a wife. In the immediate future, we're always looking for stuff to do, like one-off stuff. We'd love to go play the Fest some year if we can convince him to do that. You know, the family is his main priority right now and we respect that 100 percent. We can't tell him, "Dude, fuck you family, we're in a terrible punk band! Come hang out!" you know? As far as Bad Friends, Mark Miller from Strike Anywhere, he lives in Richmond and Nathan lives in San Francisco. Ian lives in San Francisco but we're on tour so much, it's kinda like when we're home we stay locked inside our houses pretty much. We don't get out very much when we're home. But who knows what the future holds? I'd love to stuff with those guys again, I like Bad Friends. I think that's a very fun band.
Talk a little about this tour with Off With Their Heads and Riverboat Gamblers.
Ryan from Off With Their Heads had the idea and I think it's just the most fucking fantastic idea ever to get three bands that could go do their own tours and put them together and do it in the summer against the Warped Tour, you know? Why not have an actual punk rock summer tour? I don't mean to take away from the bands that are on the Warped Tour—I'm sure they're doing fine and having a fantastic time—but 95 percent of the bands are terrible and we would have no fun being out there with them. So we were like, "Why don't we just do this thing?" Ryan called me, he was like, "Hey, I'm thinking about putting together this tour with some bands—having like three headlining bands and putting them in small places and going around the country and all three of us just rotating headliners and openers and all that shit and go have a fun summer against the Warped Tour." And it's kind of one of those things where you usually don't wanna tour in the summer because of Warped Tour because nobody goes but we were like "Fuck it, if these three bands get together I think it could be really fun." So he got a hold of Dead to Me and I was like, "I'm on board, 100 percent, let's make it happen." And then we talked to Fat Wreck Chords and they were like maybe you should do a 7-inch, like one song from each band and again, just being a record nerd I was really, really stoked because I love Off With Their Heads and I love Riverboat Gamblers and I consider a huge honor for Dead to Me to be on the same recording as those two bands. And my cousin Ian did the artwork so I'm really stoked on that, too.
Are those songs that are gonna be the full-lengths?
Our song is, yeah. Our song is on the upcoming full-length. And it's also on a benefit comp for the 12th and G Warehouse that was in Chino but it's been moved to Pamona or something, so it's a benefit comp to help raise money for that. It's like our favorite venue in the country.
What do you have coming up aside from the full-length and the rest of this tour?
We have the rest of this tour coming up and then in early October the record's gonna come out, we're gonna do CMJ, we're gonna do the Fest, and then in January we're going to Europe and we'll be doing full U.S. [tour] in Spring of 2012 and then somewhere around the end of summer just stick our heads between our legs and kiss our ass goodbye, somewhere around October. Because the world will end.
Is there anything else you'd like to add that I didn't mention? Something you'd like the people to know while you have a tape recorder in front of you?
Thanks for coming out to these shows. If you've already been out to one, thanks for coming because these shows have been fucking awesome. Arguably the funnest tour we've ever done, no joke. It's been really, really cool.