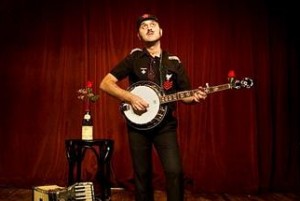 Multi-instrumentalist and musician-about-town Franz Nicolay has launched a Kickstarter campaign to help fund the recording and production of his next studio album, Do the Struggle. Here's what Nicolay had to say about taking the approach:
"You may be asking yourself, "This guy's made a couple records without needing my help, why is he coming around with his digital paw out now?"
Remember when Prince got all worked up in the '90s about owning his master recordings? It's still important - and in a digital-download world, it's even the easiest way. Records still cost to make, and it's no secret that way less labels are out there with budgets for making albums in general - much less for an acquired-taste songwriter - so if I can raise the money to make the record myself, I'm getting the best of all worlds. Sometimes life makes it convenient: I paid for "Major General" mostly from a small advance on my songwriting on a Hold Steady record; and "Luck & Courage" with the money from a summer touring with Against Me. This year, there's no great "extra-credit" money on the horizon, so for those of you can kick in 10 or 20 bucks, think of it as pre-paying for an album that hopefully you'd buy in any case; but that without your help, wouldn't get made."
You can see the project page here. Nicolay last released Luck & Courage in 2010 via Team Science.