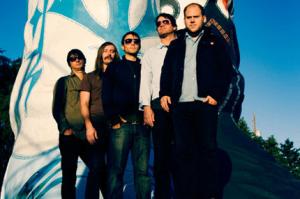 Myspace Music is reporting that The Bronx will be heading into the studio later this year to record a new album, their first since 2008's The Bronx III. Guitarist Joby Ford and vocalist Matt Caughthran had this to say about the progress of the project:
"We're five songs deep into our new album … Hopefully recording [it] around Christmas and summer release/spring release." "[The Bronx] is still alive and well. We're officially two bands. And both bands are alive and well. It's a lot of work, but it's awesome. I'm looking forward to getting in and finishing The Bronx record and I'm also looking forward to doing a headlining El Bronx tour. And sometime next year probably merging both bands and doing some crazy two show a night megatour…It's nice to balance both bands off each other. When you get tired of one you can go to the other. It's a nice creative springboard."
As alluded to above, the group has been busy with their mariachi alter ego Mariachi El Bronx, releasing a pair of albums in 2009 and 2011.