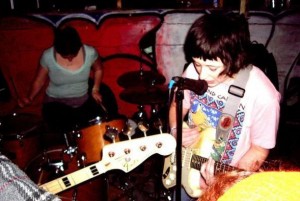 P.S. Eliot will be disbanding at the end of the year following a performance at The Fest 10 and a pair of shows in Brooklyn, NY this December. The band posted this statement on their blog:
"After 4 agile years as a band, P.S. Eliot is calling it a day. I sincerely feel that we've creatively accomplished everything we set out to from the get-go and dragging it out would be brazen and pointless. I considered P.S. Eliot "the band I always wanted to start" but as I've grown and Allison has grown I've come to realize that "band" has grown too. P.S. Eliot's time as a fulfilling outlet for us has passed so we're ending it gracefully and moving on."
P.S. Eliot released Sadie earlier this year via Salinas Records; it's also available for download from If You Make It. Click below for info on their final shows.
| DATE | VENUE | CITY | WITH |
| --- | --- | --- | --- |
| Saturday, September 24th | Death By Audio | Brooklyn, NY | Witches, RVIVR and Nude Beach |
| Friday, October 28th | The Fest 10 (the Atlantic) | Gainesville, FL | Senders, O Pioneers!!, Little League and many more |
| Sunday, December 4th | The Bell House | Brooklyn, NY | Latterman and Nude Beach |
| Saturday, December 9th | Death By Audio | Brooklyn, NY | The Two Funerals, Cat Vet and 1 more TBA |