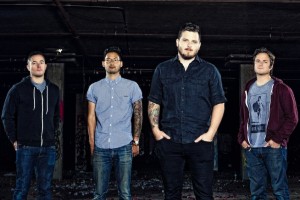 It's always seemed effortless to admire Thrice. From their fast-paced work of melodic brilliance The Illusion of Safety, to their post-hardcore stunners The Artist In The Ambulance and Vheissu, all the way to their daring and exploratory masterpiece The Alchemy Index, the California-based quartet have made it clear they're in it for the long haul.
The follow up to 2009's critically acclaimed Beggars, Major / Minor is another fresh and honorable release from start to finish; continuing the bands movement of annual progression and growth. Primed to hit the road again at the end of September, drummer Riley Breckenridge took some time to speak with Mark Millard about the writing process, the transitional phase from album to album and the tough times that all four members were personally going through prior to recording.
What has the band been up to in preparation for the new release and approaching headlining tour?
Right now everyone's just kind of off doing their own thing. We got together last week and did a TV appearance for Fuel TV and did a little acoustic session at Hurley. I think Dustin and Teppei went out and did like a Dickies live session or something and then something for the Guitar Center Podcast. So we were together quite a bit last week. We also played a show at the Yost which is this old, antique-like, renovated theater that opened up in the 20's originally; they're trying to breathe new life into it. It's cool because it's like a 900 person capacity venue which we don't have a lot of down here aside from maybe the Glasshouse and House of Blues; so we got to play a show there as part of their grand opening, and that was cool. So now we're just laying low; everyone's doing their own stuff. Teppei's back in Seattle where he just moved about eight months ago, Dustin's raising his kids and being a great husband, Ed's probably building something out of wood and I'm watching baseball on TV and trying not to turn into a fat pile of shit by barbequing and drinking beer.
So keeping busy man!
Yeah! (Laughter)
Let's talk Major / Minor. You guys recorded elements of the record at the home studio we grew accustomed to throughout Beggars, but for the most part, it was recorded at Red Bull Studios. Can you tell us how that came about, and ultimately, does a different and larger studio setting effect the bands approach to recording?
I think we definitely went into the process a little bit more prepared. There's something about recording in our home studio that didn't really separate us from practice, writing or simply rehearsing for tour because we would do that in the same room. So when it came time to record The Alchemy Index or Beggars it didn't feel like that much of a production; it was just like, "Okay, well let's start recording the record now." It wasn't that big of a shift from pre production as opposed to the actual recording of the record. For me, that was something that I missed about recording records like Vheissu in New York, or The Artist In The Ambulance with Brian McTernan in Maryland; You miss the recording of an album being an event. So this time it was like an event because we had to get out of the home studio and go up to LA or Santa Monica and track at Red Bull. Originally we thought we were going to have four days there and finish the rest of it at the studio at Teppei's house or our producer Dave Shiffman's house, but we got lucky and they kept having their schedule clear so they kept coming back to us and being like, "We can give you two more days," and we're just like, "Awesome, we get to record in this amazing studio for extra time." And they just kept tacking on time, so we definitely benefitted from that because we ended up tracking basically the entire record aside from a few overdubs at our home studio, and Dustin did vocals for like three or four songs at Dave's place in L.A. But that was more because his voice was shot at the end of our time at Red Bull. If we had some more time, we probably could have done the entire thing there.
It must have been refresing to feel less crammed than in the minuscule home studio.
Yeah. The live room at our home studio is 10 x 12 and the control room seriously feels like a one hitter toilet (laughter); it's just a tiny little room. So, even though it's comfortable being close to home, it was never really that comfortable a place to record in. So to have a lounge at Red Bull and a big control room and a big live room, it's nice just because everyone's not in each other's hair during the recording process. If you needed a time out, you could just go in the lounge, throw on a baseball game or have a cup of coffee or something; where at the home studio it was like, "Where do I go?" It was just nice to have a little breathing room and I think it helped the whole vibe of the recording process be a little more productive while being semi-relaxed; it was just less tense I would say.
Definitely man. What did Dave Schiffman bring to the table?
He took a huge weight off of Teppei's shoulders because on The Alchemy Index and Beggars he was pulling double duty as engineer and guitar player. So, it allowed Teppei to really focus on his guitar playing, and just not be going a million miles an hour for the entire recording process. He took care of a lot of the engineering, but as far as a typical producer's role. He didn't really do that much. We came to him with the songs pretty much written the way they ended up being on the record. He had a few suggestions about smoothing out some transitions or maybe doubling a chorus or a few arrangements; getting parts more defined or separated depending what the case was, but there wasn't too much hands on changing of songs or sound structures. It was just a few tweaks here and there, which was kind of refreshing. After doing the last two records on our own it was nice to get an objective set of ears to critique what we're doing, whether it was a constructive criticism or a, "Why are you doing that? It sucks," way.
I find many of Thrice's records are somewhat of a response or a reaction to the bands most current work; I look at The Alchemy Index and Beggars as a strong example. That said, was there any reaction to Beggars while writing Major / Minor?
I don't think so. I think this record is probably the least reactionary. Coming off of The Alchemy Index, because that was such a bizarre project, and sort of all over the place; there was very little jamming as a full band. Out of those 24 songs there was probably ten of them we hashed out as a full band. So with Beggars, the goal was to take what we learned making The Alchemy Index, and use that while building on the excitement of having the four of us back in the room again jamming our own stuff and feeding off the energy of playing live. I think Major / Minor is kind of trying to build on the vibe we had as far as writing is concerned with Beggars. We realize how much fun we have playing together in a room, our amps cranked and just bashing away on drums; that's what this record is; What came naturally and us building on the excitement of just jamming stuff out and being loud.
So it's certainly safe to say Major / Minor is once again the product of four guys jamming together in a room. But I'm curious to know, when you're far out of that initial, live writing procedure and far into the studio portion of the record; How significant is the bands democratic process?
It's really important, but it's also one of the more difficult aspects. I think it's great because everybody in the band gets their voice heard and their musical taste incorporated into the final product. But in a way that only makes our writing process take a lot longer because we're basically putting these songs together with a bunch of different ideas from four different minds. We all have a core of bands we appreciate and listen to, but everyone's personal musical taste goes in totally different directions. So, when everyone writes individually and we bring these pieces to the writing process and try to make them into songs, you have four very opinionated minds with very distinct musical tastes trying to agree on something that's hopefully at the end of the day somewhat cohesive with the rest of the record and somewhat of a collaborative effort. So it can get difficult from time to time, pushing an idea you might like can be an uphill battle at times and keeping the vibe of an original idea you had and having it pulled somewhere else can be difficult. But it's all about picking your battles and learning when to let go of something, trusting in your band mate's ability to do what they do. Trusting the process and trusting the struggle of rewriting and revising and it will be something that everyone's happy with, which every time we put out a record, after lengthy deliberation, we get it to a place that everybody's happy with no matter how crazy it was to get there.
On a personal level it's been a heavy year and a half for the band. Unfortunately, you've collectively had to deal with some personal losses and the process of coping with those tragedies. Do those tough times reflect in the music at all, whether instrumentally or lyrically?
I think there are some songs on the record that deal with loss or disappointment. The most obviously one is probably 'Blur', which Dustin kind of wrote based off of an email I sent to the guys. It was basically talking about how when all these life changing experiences that we were faced with; Teppei losing his mom, Ed and I losing our dad and Dustin's dad being diagnosed with brain cancer, all this happened in like a year and a half time frame. It's just like "Holy fuck, why does this keep happening? How are we supposed to process all of this?" It made it so difficult to focus on stuff and I mentioned to him; I was taking these slow shutter photos, and the thing that I like about those photos is with light trails and images that are out of focus, you're dealing with something like loss of a family member or these terminal illness', it becomes harder to focus on any one moment and I just felt like those photos captured that in a visual aspect. I think Dustin did a pretty good job of capturing what I was trying to say and capturing what I was trying to capture in those photos in the lyrics for 'Blur'. And as far as music goes, I don't know if it's all that evident. I thought we were probably going to write a darker record because we were going through some dark times, but I think some of the music on this record is kind of uplifting in a lot of ways and maybe that was us reacting to all the shit we were dealing with; using music as an escape or something to prop us up. I can't even describe how shitty it was to get that much bad news that quickly, it wasn't like it was happening to one person; it was happening to the entire band. So it was just a lot to deal with.
Without a doubt man. It's remarkable to see that even through those tough times, you guys plugged away and got through it together; Ultimately doing what you love. You mentioned 'Blur', but do you have any other songs that were truly important to you during the aforementioned period?
Definitely 'Blur' strikes a chord with me lyrically, but the song 'Call It in the Air' is regarding the musical journey that it takes. It starts out very delicate and hypnotic and kind of just bursts into these really open, soaring, chorus' and then goes into these really dark percussive parts that kind of signify the emotions that at least I felt I was going through. Like sometimes when you've got a lot of bad shit going on, you zone out and you become like a zombie and you're almost hypnotized, and then the big open soaring chorus' kind of signify those moments of relief, like little snippets of good news you could get. Like Dustin's dad getting out of the hospital or something, the bottom line is he still has cancer but not being in the hospital is good news and then the dark percussive parts kind of signify the frustration and the rage and the anger that you feel just because of how close you are to the whole situation and how a terminal illness is undoubtedly frustrating, a feeling of helplessness you can't really describe just watching someone you care for so much slowly losing everything.
The band took some time off near the middle of the writing process to focus on family and personal life. So moving away from a song for some time, and then coming back to it; does that modify what you've been working on?
For some it did, for some it didn't. I think in a way it definitely helped us to get a fresh perspective; because we've had a tendency in the past to kind of beat songs into the ground and over revise them, so I think we went through like seven or eight rounds of demos with these songs, and to get a break because of my Dad's health probably around round three or four, it was a nice midway point to take a break. And to be honest, I was totally focused on my dad that I wasn't even thinking about writing music or taking a break of anything, so when I come back to them, even though my mind was cluttered with shit that was going on in my personal life, I approached them musically with a fresh set of ears, which I think was beneficial. But then there were songs like 'Anthology' which is a song that Dustin had a really rough demo that he wrote with an acoustic guitar and just recorded with the ambient mic on Garageband. He had a melody and the guitar progression. During the writing process he went and did some of the "Where's the Band? Tour" and then Teppei, Ed and I went into the practice space and basically took that idea and turned it into a complete song. I think the very first demo version that we have is pretty much the exact same thing that you hear on the record as far as arrangement, key and chord progression goes. So some didn't need revision, and some needed a shit-load of revision.
Being the bands seventh full length record, at this point in your career, what are you most proud of?
Just that we're still around I guess. I don't think any of us expected to have been fortunate enough to do everything we've been able to do as a band. We just started it because we love playing music, and it was something fun to do after work or after school. We've been very lucky and very fortunate to have a really loyal base of people that appreciate what we do, that have grown with us and been patient with us, and accepting of our schizophrenia. (Laughter) We're just really grateful that we've been able to make it this far I guess. I don't think we could've done it without the people who have been supportive of us and stuck by us.
I want to take you back to Warped Tour 2003 for this question. The reason I chose said tour is because it's the first time I heard the band in Toronto and quickly became a fan. If Riley from 2011 could dip back and tell Riley from 2003 one thing; what would it be?
Man that's a tough one, nice question.
It can even be anything, even: "Ervin Santana's going to pitch a no hitter in July 2011, so bet on him!"
(Laughter) It's weird because I feel like I would probably want to give myself some band advice, but I feel like I've handled the whole thing pretty well. I've always been really grateful and felt fortunate to be able to do this. I'd probably tell myself to not stress as much and try to enjoy it even more than I did I guess. I went through a period around 2003-2004 when we had just signed with Island (Records) and we were super busy and just touring our asses off. I'm not the most outgoing guy, or kind of guy that feels really comfortable being on stage in front of thousands of people. I've grown comfortable with it, but back then it was pretty overwhelming and I'd get super stressed out. I wish I could have told myself just to loosen up and have fun with it, which is somewhere I've gotten to now. It's made playing live shows, touring, working and traveling so much more enjoyable because I'm not stressing about every single note that I play or every single stroke. Sit back and enjoy the ride, that's probably what I'd say.