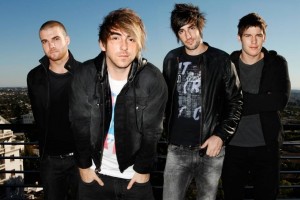 In all probability, Blink-182 cover bands were a mainstay of last-decade suburban garages everywhere. But scarce few Dickies-sporting teens managed the meteoric rise it took to go from aping the kings of Top 40-friendly three-chord punk in Mom's basement to boasting Alternative Press's Band of the Year 2008 award, collaborating with Weezer frontman Rivers Cuomo and being showered with the jettisoned brassieres of screaming adolescent girls upon taking the stage in multiple continents. Baltimore, MD's All Time Low has consistently transcended the pack, however, and with the recent release of Dirty Work, their fourth full-length and major label debut, the quartet have their eye on their tallest order yet: longevity within today's blink-and-miss-it cadre of pop music.
Punknews staff interviewer G'Ra Asim checked in via email with guitarist Jack Barakat for the low down on major label boogiemen, skeletons in Cuomo's closet and reckless abandon.
You guys are known as a band that's had the same lineup for as long as they've been in the public eye, and a little before that as well. However, being from Maryland, I can definitely recall the earlier days of the band when you had a couple of other members who are no longer with you. What are your old guitarist and bassist up to now? Do you have any contact with them, and have they reported any Pete Best-like regret for leaving the band before stardom took hold?
We don't have any contact with ex members. So I'm not really sure what they are up to. We've had the same members since 2003 so it's hard to remember much before then. Haha.
What was the most memorable thing about co-writing with Rivers Cuomo? What kind of adjustments has Alex had to make in his writing process going from a high school kid writing songs on his own to a professional recording artist who collaborates with established stars?
One of the coolest things I remember about the Rivers session was what he had in his house. He had a bunch of books from Harvard and a couple of those skeletons you see in science class. Luckily we had spent a couple years writing with producers like Matt Squire. So by the time Alex was in the room with Rivers, he was prepared.
What has been the biggest surprise about the lifestyle that comes with being a professional musician? You've mentioned that the band had collectively dreamed of being where they are now for a long time prior. In what ways has the experience clashed (whether positively or negatively) with your expectations?
A lot of it is what we had hoped for and expected. There a few things that turned out different than we thought. There is definitely a lot more downtime on tour. Kind of always expected it to be a little more fast paced. Don't mind that though.
What ever happened to Alex's imprint, The Party Scene? Have there been any subsequent signings following The Friday Night Boys?
Not sure, to be honest.
Since you guys are all around 23, you're probably about due for your five-year reunions with your graduating high school classes. Any amusing insights or stories from that ritual?
Oh shit, didn't even think of that. Should I be getting an email? Maybe they forgot about me.
You've said that your experiences with Interscope have thus far hardly resembled the stereotypical major label horror stories. What in particular has Interscope done well for your band?