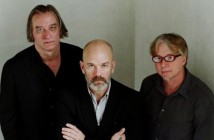 R.E.M. has called it a day after thirty-one years together. Statements from each member of the group can be found on their website, but here's their joint statement:
"To our Fans and Friends: As R.E.M., and as lifelong friends and co-conspirators, we have decided to call it a day as a band. We walk away with a great sense of gratitude, of finality, and of astonishment at all we have accomplished. To anyone who ever felt touched by our music, our deepest thanks for listening."
R.E.M. was a seminal and influential part of the alternative and college rock scenes of the 1980s and 1990s, and helped lead the way for many others to break through to the mainstream. Their fifteenth and final album, Collapse Into Now, was released earlier this year.