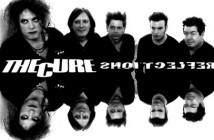 Stereogum is reporting that The Cure will be performing their first three albums in their entirety in London, L.A., and New York in November. Amplifying the performances of Three Imaginary Boys (1979), Seventeen Seconds (1980), and Faith (1981), the band reports on their website that they will be also performing about a 30 minute encore each evening with "The Hits." Fan can also expect cameos from past lineups helping out each night.
Tickets for London's Royal Albert Hall show on November 15 go on sale this Friday here. Tickets for L.A.'s Pantages Theatre shows November 21-23 along with New York's Beacon Theatre shows on November 25-27 will go on sale October 31 at Ticketmaster.com.
In other Cure news, it was also announced that they are among the crop of nominees for induction to the Rock and Roll Hall of Fame next year. You can read more about the other nominees over at the New York Times here.