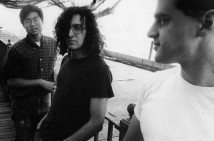 Temporary Residence has unveiled plans to reissue the complete discography from post-punk/noise pioneers Bitch Magnet. Mac McCaughan of Superchunk and Merge Records commented on the band, describing their sound and influence:

Bitch Magnet created this amazing equilibrium between heaviness/prettiness and density/space. These juxtapositions were explored by a ton of bands at the time, but Bitch Magnet wrote songs.
Due out December 6th, 2011, the triple-LP and triple-CD sets will include five previously-unreleased early versions of songs recorded nearly a year before the sessions for the band's second album Umber. Two non-LP tracks recorded during the sessions for the final Bitch Magnet album Ben Hur, "White Piece of Bread" and "Sadie," are included on the reissues as well. All of these tracks, as well as the band's three albums, were remastered from the original analog tapes by Alan Douches at West West Side Music.
After performing at All Tomorrow's Parties in Minehead, UK on Saturday, December 10, Bitch Magnet will co-headline The Garage in London with a reunited Hot Snakes on December 13th. The band is planning additional December shows in the UK and Europe.
Check out one of the tracks, "Mesentery" via soundcloud.