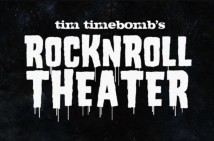 Rolling Stone has posted a preview of Tim Armstrong, of Rancid fame, latest project Tim Timebomb's RockNRoll Theater - a made-for-web musical theater series.
Rolling Stone describes it as: "A cross between Rocky Horror Picture Show and anthology TV series like Twilight Zone and The Outer Limits, RockNRoll Theater will feature half-hour episodes with Armstrong serving as the narrator a la Twilight Zone's Rod Serling."
The debut episode titled "Dante" previewed below features band mate, Lars Frederiksen and AFI's Davey Havok.