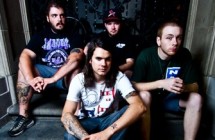 Bridge Nine Records have announced that midwest hardcore act, Expire are the newest addition to their roster. The band released the following statement:
"We're almost done writing the LP and couldn't be more stoked to be putting it out with Bridge Nine. We'll finish writing and recording once we get back from Europe and we can't wait to get back in the van once the album is done and hit the road. Touring is what this band is built around so prepare to see us everywhere in 2012."
Expire will be touring Europe this Fall with Foundation.