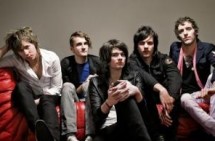 Chicago based power-pop band The Academy Is… have broken up. After parting ways with drummer Andy Mrotek and lead guitarist Michael Guy Chislett back in May, the band attempted to begin recording their 4th LP together but decided to split instead:

After nine years and three albums, The Academy Is… have decided to go our separate ways. We began in 2003 as three young friends in the suburbs of Chicago, with dreams of creating music that meant something to us. Dreams of leaving those suburbs behind and seeing all of the beautiful things that this world has to offer. Dreams of making a difference in the lives of others. It is now 2011 and we look back at the records we've made, the shows we've played, the places we've been. And though we may not be together, you can look forward to hearing new music from each of us. The music we have made together is our gift to you.
Their last album was 2008's Fast Times at Barrington High.