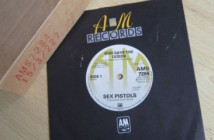 Got $17,000 to spend on some vinyl? Then you'd have lost this recent eBay auction which saw a label-only promo for God Save The Queen Original sell for £11,100.00 ($17,509.14 USD) earlier this month.
According to whatsellsbest:

The vinyl record, features the controversial song "God Save the Queen" by the English punk rock band 'The Sex Pistols' which was pressed on an A&M Records label in 1977. Only a small number of copies were pressed before the group left A&M to sign with Virgin Records. The (A&M) records are considered by collectors to be among the most valuable in the UK. This particular record (sold) was stated by the seller to be one of small number of promo-pressings given to A&M executives prior to the company's closing in 1998.
The record is not the first Pistols' release to fetch in excess of £10,000.00 with a recent acetate reaching $23,000.