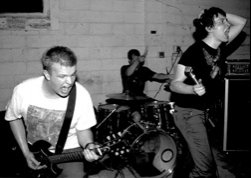 Silverstein will soon be releasing Short Songs, a collection of sub-90 second songs including covers and originals. The band explains the concept for the 22-song album:

There will still be a ballad, a breakdown, and some singalongs, all amidst these quick songs. The idea is to give the listeners a mini-Silverstein album and take them through all of the peaks and valleys they could expect from any of our original albums
The first half ("Side A") will feature eleven original songs and the second ("Side B") will include mainly punk covers including songs like "It's My Job to Keep Punk Rock Elite" (NOFX), "The Ballad of Wilhelm Fink" (Green Day), "Coffee Mug" (Descendents), "236 East Broadway" (Gob), "Short Songs" (Dead Kennedys), and "Destination: Blood" (Orchid)
The album is expected in January 2012. The band has also posted a short trailer about the project.